About
Here at Western Welder Outfitting, nothing is more important to us than making superior quality duds. We know what its like being bowed up workin straight 12s and know that you want to wear quality gear that's going to work as hard as you are… and look good while you are at it too. We're a brand forged in the field by hard times and long hours - made for welders, by a welder
With a high quality product, a high quality experience, for a fair price, you can rest assured knowing that Western Welder Outfitting is here to provide you with the products that are going to hold up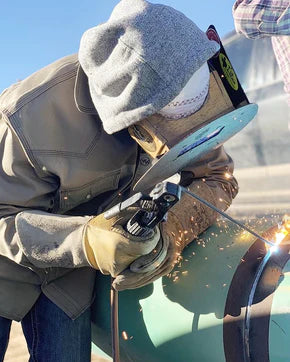 Who We Are
"My name is Jordan Beaman, and I started Western Welder Outfitting in 2018. My goal with this company was to give my fellow welders something of value and something that they could call their own. After years of working in the oil fields, I found myself searching for a high quality men's clothing line that could live up to the needs of the modern welder, only to come up empty.
From there, I got to work designing products, working with manufacturers, and launching Western Welder with all of my heart. Today, We're a proud business and we continue to expand our product line to give today's welders the products they need to live their life and showcase their true identity.
You're a rugged man, so you should dress like it too."
Our Mission
Our mission is to provide today's working man with a high-quality clothing line that he can trust at a price that he can afford. The men's fashion and work-wear industry is full of high-priced clothing items that simply don't hold up to the quality standard that the welding community demands – and that's exactly what we're here to change.
Connect With Us
Are you a welder? Let us know! We're always excited to hear from our fellow welders. How did our clothing hold up? Were you satisfied with your purchase? Share some feedback with us, so that we can continue to grow our business and expand our selections.
If you have a question about our products, get in touch with us by filling out the provided form on our Contact Us page. Let us know how we can help, and a member from our team would be happy to connect with you soon.
We look forward to hearing from you soon.